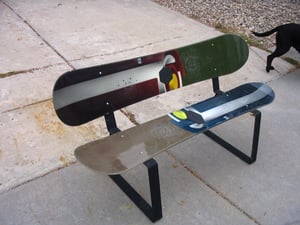 $

199.99 - On Sale
-Do it yourself using my frames in just MINUTES with these pre-drilled bench frames!
-These bench frames that I sell will equip your own used ski/snowboards in minutes!
-Product is made of solid iron and fabricated to work with snowboards, Surfboards, wakeboards, skis + etc.
-Price includes ALL hardware(fames)and is pre-drilled!!
-Super strong! Easily supports 3: 200lb.+ people with no give or swagger.
-Works great as furniture in any room, on any deck, at any tailgate party, or in any business.
-Includes ALL hardware and instructions for fast easy assembly in roughly 10 minutes!
-or...can be taken apart and reassembled in just minutes to take to your favorite resort parking lot for something to sit on after a nice long day of carving!
-or...Bench frame can be bolted-down to concrete or wood deck to prevent theft. Give your old equipment new life with this design.
-*Individual or large orders are welcome! with fast turn around!) (design patent pending)...Keep em out of the landfill !
Only $199.**cheap considering the cost of the material and fabrcation. shipping available. or Price WITH used snowboards is $280=(limited quantity on included used skis/snowboards)--Free delivery within Denver Metro Area with cash only purchase.
From the 'Steel Edge' Designs(tm), an easy way to keep OUR Ski/Snowboard equipment out of the earths landfills. (dog not included)
Please email with questions ....winterarsenal@gmail.com